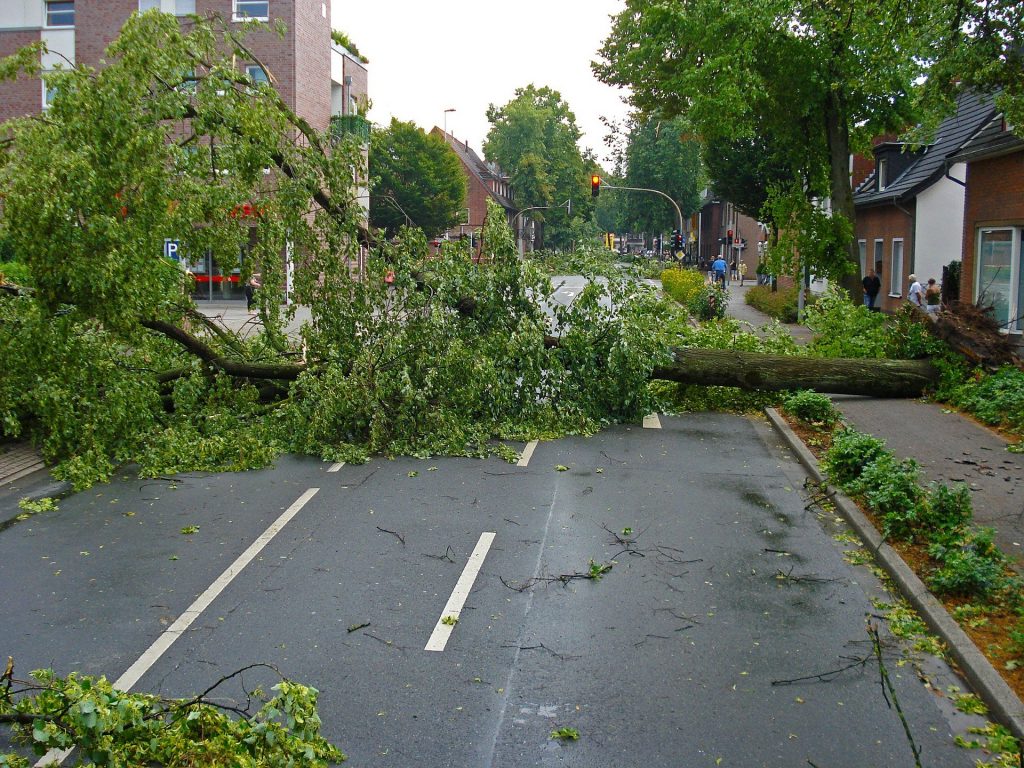 According to the Congressional Budget Office, expected annual economic losses from weather-related damage caused by hurricane winds and storm-related flooding total $54 billion, with $34 billion of those losses to households. If you are like most people, your home is probably one of your biggest investments; therefore, you should do whatever you can to protect it. When it comes to weather damage, you need homeowners insurance. However, you should also take other steps to lower the risk of major destruction and costly, inconvenient repairs.
How to Reduce the Risk of Wind Damage
Hurricanes and other severe storms can wreak havoc on your home in the form of wind damage. Wind can damage shingles, siding, and doors, so make sure shingles and siding are fastened properly and install storm shutters on doors and windows if your area is prone to violent storms. During storms, tree branches and limbs can crash onto your home or vehicle. Regularly trimming the trees that are near your home can help reduce the risk of fallen limb damage. Depending on the size of the tree, the average cost of tree trimming can range from just $75 up to $1,000. If you have dead or dying trees on your property, have them removed promptly so they do not become projectiles during a storm.
Check your homeowners insurance policy to ensure you understand the coverage. Some policies have separate deductibles for hurricane or wind damage, while others exclude this type of damage from standard coverage and require you to purchase a separate windstorm policy.
How to Protect Your Home from Hail
The best defense against hail damage is investing in an impact-resistant roof. Shingles made from modified asphalt are generally affordable and offer some resistance with their rubber-like qualities. Plastic or resin shingles, as well as other types of metal shingles, may be more durable but at a higher price tag. Talk to roofing contractors in your area to learn about upgraded materials that can protect against hail damage and extend the lifespan of your roof.
Hailstones can damage more than just your roof. If you live in an area prone to hail, consider the previously mentioned storm shutters to protect your windows from cracking or shattering. Also, be sure to bring in patio furniture, BBQ grills, and other outdoor items before any storm.
How to Stop Rain and Snowmelt from Leaking Into Your Home
Severe rains, flash floods, and melted snow can leak into your home and cause serious issues. You can avoid this problem by having your roof inspected for missing shingles and damaged flashing before storm season. Also, clean out your gutters regularly. If they get clogged, water can overflow and damage the exterior of your home or leak into your basement.
To protect your foundation, you want to ensure the ground around your house slopes downward away from your home rather than toward it. If water runs toward the edge of your house, it can leak into your foundation. Therefore, you may need to add soil into any low spots to deter water from pooling around the perimeter of your home.
How Sunlight Can Damage Your House
Believe it or not, the sun can damage your house too. Strong sunlight can cause vinyl siding to melt or crack over time, so consider planting trees around your home to protect siding from sun damage. The sun can also deteriorate the shingles of your roof if you don't have a cool roof coating with a high reflectivity rating. These coatings can also help prevent water damage as well. Sunlight coming through your windows can also discolor certain types of hardwood floors quickly, including cherry wood. However, window coverings can prevent this type of damage.
You can't control the weather or avoid any kind of weather-related damage to your home. However, you can take several preventive measures that will help reduce the chances of costly repairs. Protecting your home today from wind, hail, sunlight, and water damage will save you money, time, and aggravation in the long run.
Article By Natalie Jones
Photo via Pixabay